Evolution of Iconic American Cars–Then and Now
---
---
There are just some cars that are so iconic that any fan will turn their heads for when they drive by. Some disappeared for a while only to return with a vengeance and others have been staples in car culture throughout the ages. Let's take a look at some of the old classics and what they have turned into over the years.
Ford Mustang
Debuting on April 17, 1964 the Ford Mustang's performance at the World's Fair in New York left Ford in shock and awe. Expecting only to sell 100,000 units that year they had received 22,000 orders on the first day, and sold well over 400,000 the first year. Like most manufacturers, there were multiple engine sizes available: 170 cid (2.8 liter) OHV straight-six to a 271 horsepower generating hi-po "K-code" 289 cid V8. In 1966, the 170 cubic inch was changed to a 200 cid, 6-cylinder, the 260 cid engine changed to a 289-2V 200-horsepower V8, and the 289-4V upgraded its horsepower to reach 225.
It's gone through a good five generations and 10 body type transformations, but for fifty years it has been a defining vehicle in muscle car culture. In 2019, it still comes in a wide variety of models, some with the Ford EcoBoost feature which is designed to optimize power and efficiency with turbocharging and direct fuel injection.The 2.3-litre EcoBoost four-cylinder uses Ford's transient overboost technology, permitting torque to be increased for wide-open throttle acceleration. While the 3.7L V6 has been retired the 5.0L V8 has had an overhaul, with new dual-fuel, high-pressure direct injection and low-pressure port fuel injection, providing a vigorous low-end torque, high-rpm power, and improved fuel efficiency.
No credit? Bad credit? Get approved today with Mac James Motors <<<<<
Chevy Corvette

A car developed out of a sales slump for Chevrolet. They released the Corvette to appeal to the sports car fanatic and it was launched at GM's Motorama show in New York in 1953. It sported the Blue Flame inline-six–a six-cylinder powerplant that could produce 150 HP in the little two seat roadster, but unfortunately the two speed automatic transmission didn't catch the eye of the speedster crowd and they only sold 183 of the first 300 ever made.
Over the years, Chevrolet still struggled to get the 'Vette out into the world. Through a few changes like new colours and switching to the tan soft top instead of black, they also moved the factory from Detroit to St. Louis, Missouri only to still have trouble getting the car off of the lot. It wasn't until they redefined the car in 56-57 with the scalloped sides, roll-down windows and the V-8 engine, did it really get any attention. But it still didn't get the car really moving.
The early sixties changed all that when they scrapped the old generation for the new Stingray body-type offering several gear-box options from automatic to a three or four speed. The late '60's and '70's brought so many changes to the corvette due to popularity it gets tough to keep up. Through a few more generations that all include the fixed-roof Coupe, the ZR1 and the Z06 the Corvette has a lengthy tale highly worth looking into for any gearhead.
In 2019, the Corvette is still no joke. Bolstering it's 755 hp supercharged 6.2 litre engine it crushes the fuel economy game in its class at 20 mpg highway figure while rolling on the optional 8 speed automatic transmission. Don't forget the interchangeable suspension settings to suit your driving needs.

Dodge Charger
This beauty was debuted as the fastback version of the Coronet and really only varied because of its uneven control arm front suspension that used torsion bars for its springing medium and solid rear axle semi-elliptical leaf springs in the back. Launched in 1965, the first and second generation Chargers were incredible in size–practically a small yacht when compared to the '66 mustang. At 203.6 inches, the first gen drew an extra 22 inches in length and they added another 4 inches to the second. Through '68 to '70, it was also somewhat of a movie/tv star with appearances on Bullitt and the Dukes of Hazzard. It was inevitable. The car was coined "the best-looking car Chrysler ever made.
The third and fourth generations of the Charger ('71-'74) were subject to new emissions and safety regulations resulting in a slimmer version of the muscle car. Dodge kept the Coke-bottle focal point but threw some swoops in where there used to be creases, and split the grill in half and slapped some chrome on it. They gave it headlamp options and completely redesigned the cockpit. This time around, there were 6 different models available for the Charger like the base model, the 500, the 500 SE, and the 500 Super Bee. By 1975, it was only offered as an SE rocking a 5.9-litre V8 with a two-barrel carburetor that could hoof out 180 horsepower.
In the later years of its first run, the Charger took a nosedive due to a sagging economy, gasoline prices and high interest rates on sports cars. Dodge tried to get the Charger to fit in but fans wouldn't buy it, claiming it wasn't a Charger. Dodge discontinued production in 1987. Time lapse to 2004 and whispers started happening with some promotions, and by 2006–nearly 20 years later– Dodge refires the forges and relaunches it as a four-door muscle car available in SE (or SXT for more luxury) and R/T trims. The SE galloped with 250 hp and a 3.5L V6 engine on 17 inch wheels with a tilt-telescoping steering wheel, while the R/T was prepared for pure performance. Bolstering it's 5.7L Hemi V8, dual exhaust on top of 18-inch wheels. Dodge turned up with a vengeance!
Nowadays the Charger has multiple trim levels including the SXT, GT, which both come equipped with the V6 engine, and then the R/T, Scat Pack and SRT Hellcat which all come packed and ready to go with the V8. It's like the Charger got tired from trying to keep up with the economy in the '80's, took a nap for twenty years and decided it was time to show the asphalt that it was made of silk, ready to tear up the streets.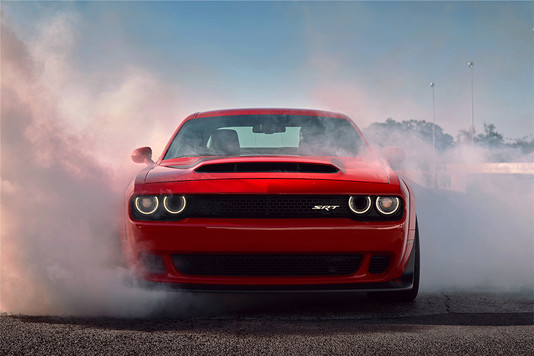 No credit? Bad credit? Get approved today with Mac James Motors <<<<<
---
---