Dashboard GPS Systems – Are they still worth it?
---
---
In past years, navigation systems were an important and functional luxury to have in your car. Not only could they keep you from getting lost on your drive, they also increased your resale value. From handheld units with a dashboard insert to onboard touch screens, navigation systems were a device of the Future. Now that folks are walking around with smartphones in their pockets, are these devices a necessity anymore? Mac James Motors takes a look at some pros and cons.
>> No credit? Bad credit? Get approved today with Mac James Motors <<
How much?
The cost of typical onboard GPS systems has gone down substantially over the years. When they first started popping up, you were looking at paying anywhere from $1500.00 to $3000.00 extra on a new vehicle off of the lot. Prices went down substantially with tech advancements and public demand. Also, automobile manufacturers started to produce their own, making the prices much more affordable for the consumer.
Even then, with reduced pricing, some motorists can find these systems too expensive. This has led the consumer to buy less expensive handheld devices or simply use the navigation systems on their smartphones. (Which can prove useful provided they won't be driving through any cellular "dead-zones.")
How convenient can they be?
Smartphones–something you may already have in your pocket–are great for getting around town or driving in a city you aren't familiar with. The location services and navigation systems they have often come with traffic features, too. Warning you when and where the roads are getting congested. All this with a provided Data connection.
However, if you are using your phone for handsfree calls or for playing your music, you may want to start looking at in-car navigation systems. they offer clear directions al the while in your line of sight, and you won't have to switch through your phone's apps – which is constantly distracting. (Illegal as per The Traffic Safety Act)
Another great feature of an on-board system would be NO BATTERIES. It just switches on when you turn the ignition.
Every in-car GPS comes with Map data stored inside. This is crucial for long drives like inter-provincial road trips where data connections can be severed due to a lack of service provider.
Another great feature for in-car systems is that they usually come equipped with backup cameras and forward dash cameras for accident records. Some even have collision warning and lane departure alerts.
Looking for Substitutions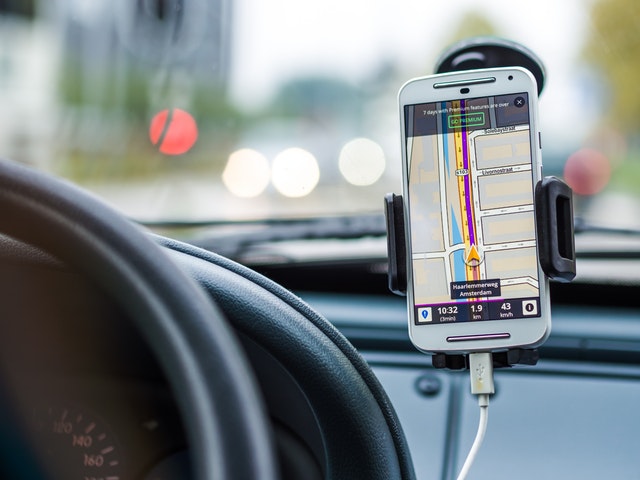 There are some smartphone apps that will let you download and store route information, but that will require certain forward planning. Don't go getting stuck trying to figure out how to get back to Edmonton from your trip to Wood Buffalo National Park with the family.
Some newer items on the markets are touchscreen smartwatches. The ones that run Android Wear link up with your smartphone and come equipped with navigation companion apps like google maps- though it's a simplified version. These can be a little more convenient than having to constantly look down at your phone.
The portable GPS navigation systems that have been produced in recent years can be just as good as on-board system, as well as more convenient. They can be transferred from vehicle to vehicle and can even be brought out on a hike in low service areas. The best part would be that they be a fraction of the cost of an in-car system.
Drawbacks may include possible damage from dropping it. They can also be left behind resulting in a loss, or worse–stolen if left unattended in your vehicle.
Selling your car?
As we stated earlier, navigation systems used to be an option that would increase the resale value of your vehicle. That may no longer be the case. Since the popularity of smartphones and portable devices, used vehicle buyers have become more hesitant to purchases including an onboard system.
With the added inconvenience of outdated maps and models the lofty expense becomes more of a deterrence.
Take a clearer look at the Pros and Cons of on-board GPS systems
PROS

Good for hands free phone calls.

Clear and concise directions within your line of sight.

No batteries required.

Some have backup and dash cameras with collision warning.

Can't be lost or stolen.

No data connection needed with stored map data.

CONS

Can't be taken with you when leaving the vehicle.

More costly than portable devices.

Doesn't increase resale value anymore.

Outdated maps require hassling updates.

Fewer designs with traffic warning features.
At Mac James Motors we can't say if GPS navigation systems are right for you, but we do hope this information can help you make the right choice.
---
---