The Best Alberta Roadtrips for Canada 150
---
---
The Canada Day long weekend is fast approaching, so you might be getting set to buckle up and head out onto the open road for a weekend of road-trippin' fun. With it being our nation's big 150th birthday celebration, Alberta's popular tourist destinations will be jam-packed (did someone say free park pass?), so instead, why not hit up some of our province's quirkiest destinations?
Looking for the perfect road-trippin' vehicle? You can apply to buy online now and get pre-approved in two hours!
The opportunities for entertainment are endless – so turn on your favourite jams, roll down your windows and hit the road to see these unforgettable locations, iconic landmarks and hilarious pit-stops.
Tour Alberta's Giant Monuments
Image credit: Trip Advisor
Travel down High 36 (North or South) and make a stop in Vauxhall to visit Samantha and Sammy Spud in the heart of southern Alberta's agricultural country. These town mascots are two potatoes dressed as farmers who are happy to greet you as you enter the town!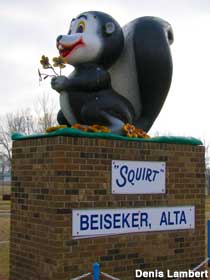 Image Credit: Roadside America
The Village of Beiseker wanted a mascot and oh boy, did they get one! Built in 1992, Squirt the Skunk stands at a whopping 13 feet tall with a smile so big, you worry his face will explode.You can find Squirt on the south side of Highway 72, just west of Highway 9, in the campground in the northwest corner of town.
Image credit: Jack Blair
Pop over to Cochrane Ranche Park, in the town of Cochrane to snap a picture of "Men of Vision" – the 1 ⅓ life-size statue of a cowboy riding a horse. If you have some extra time to kill, explore the hiking trails in the area and make sure stop by McKay's Ice Cream for their famous flavours. Cochrane Ranche is located on the north side of Hwy 1A, about 2 km east of the traffic lights at the Hwy 22 / Hwy 1A interchange.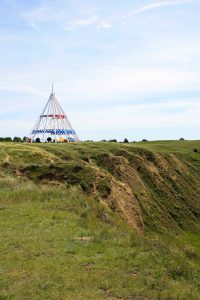 Image Credit: City of Medicine Hat
Learn about Canada's Indigenous heritage with a pit-stop in Medicine Hat to see the Saamis Teepee. The 215-foot tall teepee is the World's Tallest Teepee and was built in 1988 for the Winter Olympics in Calgary. It was moved to Medicine Hat in 1991.
Mountain Views without Crowds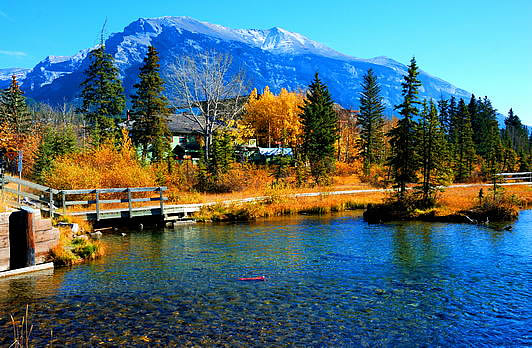 Image Credit: Travel West Visual
Looking to utilize your free Parks Canada Pass, but want to miss the crowds? Canmore is our not-so-secret secret. While everyone else is packing the streets of Banff, you'll be freely touring Canmore. Hike the trails, bike through the mountains and snap pictures with 'Big Head,' Canmore's very own realistic, giant monument of a man's head.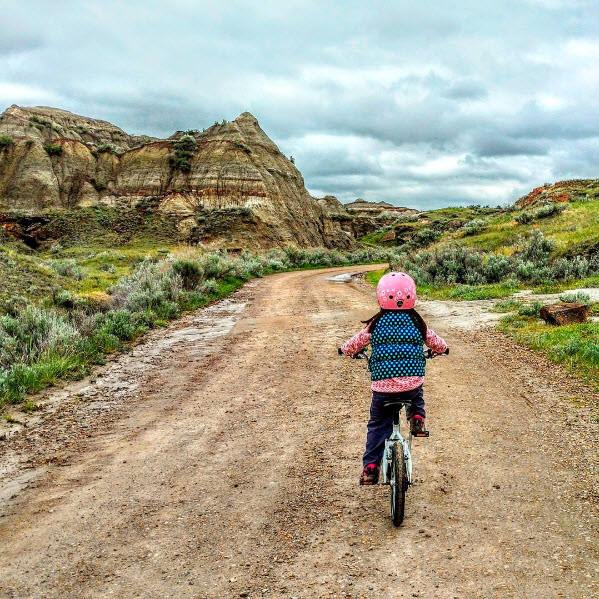 Image Credit: Alberta Parks Dinosaur
Step into a prehistoric world and visit Dinosaur Provincial Park. Explore the badlands, camp under the stars, hunt for dinosaur bones and unusual wildlife. The park is located a two-and-a-half hour drive southeast of Calgary, or 48 kilometres northeast of Brooks. Want to take your adventure to the water? Paddle or float down the Red Deer River!
Get your road trip started today! Call us or visit any of our dealership locations to get approved. The faster you do, the sooner you can take your new vehicle on a thrilling road trip through Alberta. Don't hesitate or worry about your credit; make the decision to buy with Mac James Motors today.
---
---