Mac James Truck Playoffs – Round 1: Chevrolet Silverado vs. Ford F150
---
---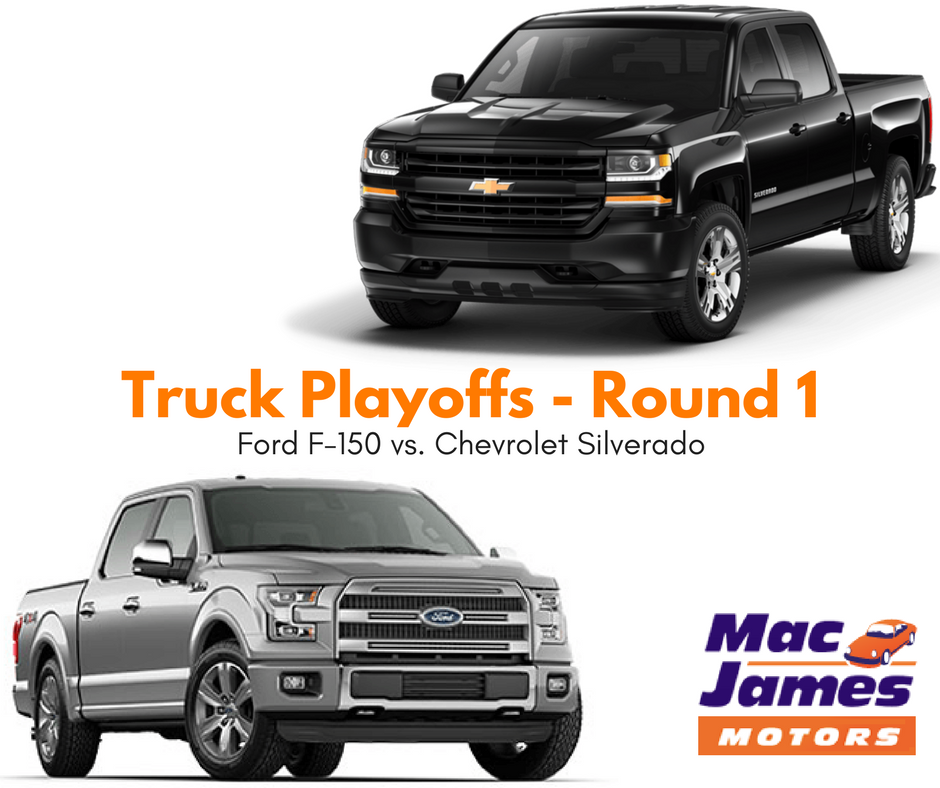 With the NHL playoff season well underway, and the Oilers heading into round two, we at Mac James thought we'd hold our own Truck Playoffs to find out your King of Trucks. We're pitting some of the most popular half tonne models against each other in one-on-one matchups, with your votes and comments deciding who will come out on top!
First up, the legendary Ford F-150 takes on the mighty Chevy Silverado!
For years, Ford's F-150 has been a force to be reckoned with in the pickup-truck market with its powerful engines, handling that's agile for a truck, and a roomy interior. The 2017 Chevrolet Silverado 1500 is one of the burliest full-size trucks you can buy, with class-leading towing capacity and two powerful V8 engines available. Let's take a look at how these two stack up against each other:
BUILD, BABY, BUILD
In recent years, both trucks have gone through full redesigns (you might say these were their team building years). The 2014 Silverado included new powertrains, new styling, a new interior and more standard and optional equipment. The F-150 saw new styling, a new interior, a series of new safety and convenience features, and boasted a new 2.7-liter EcoBoost V6 engine in its 2015 model. Plus, who can forget its aluminum construction designed to save weight and boost gas mileage, which Chevy talked a lot of smack about. The 2017 now sees the Silverado with an increased max towing rating, optional 8-speed automatic transmission for the 6.2-liter V8 engine and a newly renamed LS trim level. The 2017 F-150 offers a new 3.5-liter engine, new 10-speed automatic transmission, and its off-road Raptor trim overhauled.
RIDIN' EASY
The Silverado's quiet cabin will help provide the calm focus you need as you head to work with a more upscale interior than the F-150's. Though, the F-150's attentive damper and spring tuning will make for a smooth ride whether your bed is full or empty.
FOR FAMILY?
Both trucks aspire to provide family friendly options. The Silverado has spacious seating for up to six people, however, irremovable rear headrests can complicate child seat installation. The F-150's agile handling will help you get your kids to school on time, with a roomy interior and strong safety ratings. The 2017 Silverado now comes standard with Chevy's Teen Driver Technology. This system looks to keep new drivers from bad habits like speeding and playing distractingly loud music with many safety features such as automatically turning on available active safety technologies like Side Blind Zone Alert, Forward Collision Alert and Front Automatic Braking.
STRAIGHT UP STATS
Head-to-head, the stats show the F-150 outdoes the Silverado in highway fuel economy (25 MPG versus 24 MPG), cargo volume (62.3 cu-ft versus 61 cu-ft), and towing capacity (12,200 lbs. versus 12,000 lbs.).
We've laid out the details, but will the F-150 be "Ford Tough" enough to beat out the Silverado, or can Chevy's dependability count on your help them move on to the next round?
Vote for your favourite on our Facebook Poll to make sure your truck moves on!
---
---