Financing Options
 Mac James Motors is Alberta's Leading Used Car Dealership


for All Types of Credit Financing
---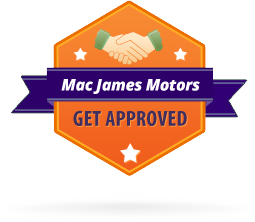 We've been helping people with used car loans for over two decades. We specialize in providing dependable used cars and affordable payments. We help our customers choose a car, SUV, minivan or truck that meets their needs and fits within their budget. Read our customer's testimonials, and you will see why we have a strong repeat business, with some customers buying four or five cars from us.
At our Edmonton and Red Deer locations, you'll find a large selection of quality reconditioned used vehicles, ready for immediate delivery. Vehicles range from small economy cars to luxury models, minivans, SUVs, and trucks. One of the reasons we've been so successful is the quality of our vehicles, which go through a complete car care inspection and are backed by a written warranty.
In today's world of bank failures, government bailouts, and the subprime mortgage meltdown, many used car dealerships have either cut back on car loan financing or discontinued lending altogether.
All over Alberta, people are being turned down for credit, even if they've had no problem obtaining used car loans in the past, and in many cases even when they have a good credit rating.
Mac James Motors deals exclusively with Alberta Auto Credit for all our financing. This way, we ensure your information is kept private — no shopping your credit around to every lender in town. We offer fast, no hassle approvals — you can drive off the lot the very same day. Our flexible payment plans were designed with you, the consumer, in mind.
We specialize in short term financing, and offer terms from 12 to 48 months with no penalties for early payouts. You can pay weekly, bi-weekly, semi-monthly, or monthly via our many convenient and easy payment options: pre-authorized bank withdrawal, postdated cheque, online payment via our secure website, or in person at one of our locations. We want you to own a vehicle, not a payment.